What Is Revision Ear Surgery?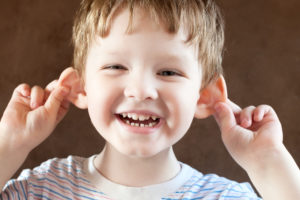 Revision of a previous ear surgery can be quite difficult. Dr. Payne is one of the few craniofacial plastic surgeon specialists trained to perform revision otoplasty on adults and children to correct bad outcomes from previous ear surgery. Complications from ear surgery can include:
Infection
Over pinned back ears (overcorrection)
Relapse of ear deformity (rupture of suture)
Loss of skin or cartilage of the ear
Abnormal position of the ear
Significant asymmetry of the ears after surgery
The worst complication with ear surgery is if the ear cartilage becomes infected. This can lead to loss of the cartilage with a significant deformity of the ear. The only option at this point is to use cartilage harvested from the ribs to recreate the ear.
Ears that are in a bad position after surgery, such as being over-pinned toward the back (of the head) or recurring prominence caused by the rupture of the suture, can be corrected. Typically, in these situations where the ear surgery resulted in a less than ideal result, we must wait a year for the scar to mature and become soft again before trying to reshape the ear cartilage. Sometimes cartilage grafts harvested from the same ear or opposite ear are necessary to improve the shape and contour of the ear.
Cost of revision otoplasty is about $4000-10,000 per ear, not including the facility fee or anesthesia fee. Dr. Payne does not perform otoplasty in the office because it increases the risks of infection, and the result could be less than ideal. He will strive for the best outcome to restore the ears to a more natural shape and appearance.
Give us a call today to schedule your consultation appointment with Dr. Payne for revision ear surgery.