Orthognathic (Jaw) Surgery
What is orthognathic surgery?
Designed to address functional and/or aesthetic concerns affecting the jaw, orthognathic surgery is usually a combination of jaw surgery and orthodontic treatment. Some of the reasons for having jaw surgery include injury, defect or deformity, misalignment, and cosmetic enhancement. Dr. Eric Payne, our extensively trained craniofacial plastic surgeon, utilizes the most advanced orthognathic techniques and technology available. He has experience performing jaw surgery on a wide age range of patients, from young children to adults, with an emphasis on providing compassionate care and exceptional results. Furthermore, our multidisciplinary team combines the skill of leading medical professionals to optimize the process from start to finish. As with every treatment offered by our practice, the patient experience is paramount. We will make every effort to help ensure your time with us is as easy and as comfortable as possible.
Need additional information or want to schedule a consultation? Contact our practice and our skilled medical team will help you with what you need.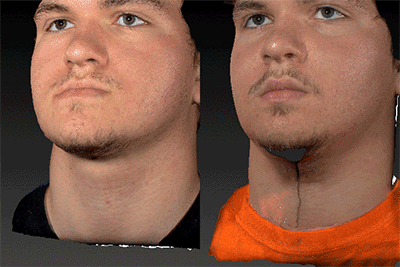 What can jaw surgery achieve?
In addition to treating effects caused by congenital disorders like Binder syndrome, hemifacial microsomia, and Goldenhar syndrome, jaw surgery can be used to address, alleviate, or repair many concerns, including:
Problems biting, chewing, and speaking
Excessive breakdown or wear and tear on the teeth
Facial imbalance or asymmetry
Symptoms caused by TMJ disorder
Facial trauma and defects from cancer
Sleep apnea
The last of these concerns, sleep apnea, is a serious condition that can be life-threatening. Dr. Payne offers a range of treatments for this common but significant problem.
Learn more about sleep apnea here.
How is orthognathic surgery performed?
Every treatment plan will be unique to the patient, and a multitude of factors will be considered when developing a course of action. Aspects like severity of the condition, age of the patient, and whether the upper jaw (maxilla), lower jaw (mandible), or both are involved will play important roles in the techniques used. Some individuals may need to have bone cut and repositioned (osteotomy); some may need to have bone replaced. If extra bone is added, this tissue may come from a donor or it may be harvested from the patient's own body, such as the hip, leg, or rib.
In cases where children are involved, our surgeons may recommend waiting until the jaw has finished growing, typically around the age of 15-16, to perform the operation. In some instances, jaw surgery may need to be completed earlier if there is a risk of breathing or eating problems (as can occur with cleft lip and palate) or additional developmental issues. Dr. Payne will discuss these contingencies with you and your family during your initial consultation.
Genioplasty, or chin surgery, is often performed in conjunction with mandibular (lower jaw) surgery. A technique called a sagittal split osteotomy can be used to bisect the lower jawbone about midway between the chin and the edge of the jawline. As a result, the chin can be set back or advanced as needed to achieve the desired effect. Additionally, the maxilla (upper jaw) can be advanced or set back to obtain a more normal occlusion (bite alignment). Changes to the upper or lower jaw, or both, are foundational modifications that can reshape the facial anatomy, altering one's appearance and oral function, including the ability to breathe, speak, swallow, and chew. Prior to surgery, orthodontic treatment (braces) typically will be used to reposition the teeth for a good fit after the operation.
Upper jaw surgery, lower jaw surgery, or both: What are my options?
Some patients need single jaw surgery to address their concerns, others will need double jaw surgery. During the evaluation process, Dr. Payne will determine whether upper jaw surgery, lower jaw surgery, or double jaw surgery is appropriate for your needs and goals. Some conditions may appear to only affect the upper or the lower jaw when in fact both areas will need attention to achieve the desired result. Dr. Payne and his skilled medical team are dedicated to providing the best possible care with the least invasive approach, and they will go over all the details, including the purpose of each technique used, during your initial consultation.
What is jaw surgery recovery like?
The healing process will vary from person to person, depending on each individual's unique rate of healing and the surgical approach. You will need to remain in the hospital for one to two days before returning home. You may have braces or wires on your teeth or jaw to help stabilize your results and maintain jaw position. Many patients who undergo jaw surgery will need to follow a liquid diet after the operation for a period of time, followed by soft foods, and then hard foods can be slowly introduced. Minor jaw surgery recovery may take a few weeks; more complex operations can require several months or more of downtime. Through this experience, our surgeons and medical team will take great care to provide as much support and information as possible. Your comfort, and that of your family, are top priorities for us.
Post-Surgery jaw exercises (3 weeks)
Post-Surgery jaw exercises (5 weeks)
Who needs orthognathic surgery?
Jaw surgery is performed on people for many reasons, including medically necessary treatment to improve function and preserve health, as well as for aesthetic enhancement purposes. Orthognathic surgery can be used to treat:
Birth defects
Chronic jaw joint pain (TMJ disorder)
Involuntary mouth breathing
Inability to close the lips without straining
Trauma, injury, or disease
Protruding jaw
Receding lower jaw and chin
Jaw problems can affect patients of all ages. Dr. Payne helps many young children overcome defects that occurred during development in the womb as well as mature adults who either never addressed a problem they've always had, recently discovered an issue, or wish to improve a cosmetic concern. We can discuss your or your child's unique situation in a welcoming and safe space.
What is aesthetic orthognathic surgery?
If the primary concern is cosmetic rather than functional, orthognathic surgery can also be used to improve the aesthetics of the chin and jawline to achieve a more conventional appearance or for an improved face and profile. There are a number of techniques available for aesthetic orthognathic surgery, and the treatment plan will depend upon the anatomic indicators, the patient's personal preferences, and several other factors. For instance, a recessed chin can be enhanced using chin implants or, depending on a number of considerations, lower jaw advancement surgery. During your initial consultation, Dr. Payne will discuss your needs, evaluate your concerns, and develop an individualized treatment plan with you.
Some patients desire implants to improve the shape of the face. While this can be possible with most patients, some require actual repositioning of the bone with osteotomies to reshape the face. Implants are limited to achieving only small changes in the appearance of the face. Implants also can present a higher risk for infection after surgery, leading to their eventual removal. Dr. Payne will discuss in detail the pros and cons of each option in a consultation. Typical recovery after aesthetic orthognathic surgery is two weeks for pain to resolve, with six to eight weeks for swelling to resolve.
Types of aesthetic orthognathic surgery:
Chin reduction
Chin augmentation
Osseous Advancement Genioplasty
Cheek or malar implants
Osteoplasty of the facial bones with bone grafts and calcium hydroxyapatite
These techniques can be combined with rhinoplasty and/or fat grafting to augment the soft tissue to achieve significant improvement of the appearance.
How much does orthognathic surgery cost?
Many of the patients we see require jaw surgery as a necessary part of their medical treatment. As a result, the cost of treatment is typically covered by their medical insurance. If an individual does not have health insurance or is receiving a cosmetic procedure, the price of jaw surgery will depend on the particulars of the treatment plan. Depending on the complexity of the case, the number of areas treated (upper jaw, lower jaw, or both), and the technique used, jaw surgery can cost on average about $20,000. During your initial consultation, Dr. Payne will discuss the details of the operation with you, including the expected cost, and our medical team will go over how much of this estimate you will likely be responsible for. Every medical insurance plan is different, and we encourage you to speak with your agent about your benefits regarding jaw surgery coverage.
Read Our Jaw Surgery Blog Posts
To help you learn more about your options, we routinely publish blog articles discussing orthognathic surgery, including the latest techniques and frequently asked questions. We invite you to visit our blog and read through the jaw surgery posts to discover how this procedure can provide functional and cosmetic enhancements that make a tremendous difference in our patients' lives.
We understand that you may have numerous questions about jaw surgery. Our friendly and knowledgeable medical team can provide answers and help you schedule a consultation, simply call us today for more information.