Welcome to Our New Website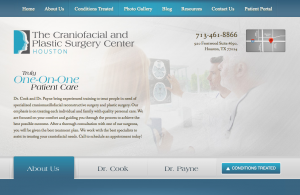 Our primary goals are to help our patients of all ages improve their health and well-being. With this objective in mind, our skilled medical team offers advanced treatment for a broad array of craniofacial and congenital conditions, injuries, and diseases. Dr. Eric Payne, our extensively trained craniofacial and plastic surgeon, is dedicated to helping achieve the optimal aesthetic and functional outcome for every patient he sees. The sensitive nature of many of our patients' situations, particularly with newborns and children, demands not only medical precision but also a compassionate approach and personalized care. We often work with very young patients suffering from very rare syndromes. To aid us in this process, we utilize the expertise of a multi-specialty medical team approach and some of the most advanced technology available.
We hope you will take the time to explore this website, which is populated with an extensive selection of information on syndromes, deformities, and conditions that Dr. Payne can help correct. We also provide additional patient resources, a gallery of before-and-after photos, and other useful features. For more information on how Dr. Payne and The Craniofacial and Plastic Surgery Center Houston can help you, please contact our office to schedule a consultation. Our friendly and knowledgeable team looks forward to assisting you.